We are conveniently located in historic downtown Petaluma two blocks from Petaluma Boulevard (formerly Main Street). We are next to the Petaluma Post Office and one block from Walnut Park*.
There is usually ample street parking, and on Sundays, additional parking is available in the Post Office parking lot.
From Highway 101, take the East Washington Street exit west.
Turn left on Lakeville Street, just before the Petaluma River, and turn right on East D Street, by the Petaluma Arts Center (in a restored railroad station). Continue across the bridge to D Street.
PUMC is on D Street between 4th and 5th Streets.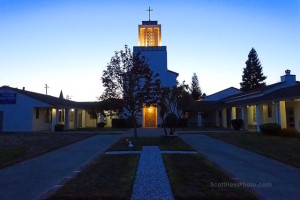 Our thanks to Lou Strohmeyer for the photograph of PUMC used here and on the home page
and Scott Hess for the evening PUMC picture taken August 2015.
Our Sanctuary was dedicated on December 7, 1941.